0%
100%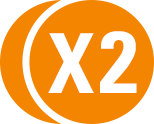 0%
achieved of
CHF 1000000
---

Guarantee
We have been certified by the ZEWO Foundation. This means that we guarantee your donations will be used fairly and honestly.
How are your donations spent?
We spend 81% of all donations directly on projects – and therefore on children. We minimise our administrative costs as far as possible.
Share your campaign
Invite your friends, family and colleagues to support your campaign. Share it on social media or by e-mail.

Get friends and family involved